It's a new year and time for a fresh start. Out with old. In with the new. It's about this time of year that we get a lot of calls from clients looking to either downsize or create their dream home.
They want a new beginning. Maybe their kids have left the nest, and they are finally ready to make the investment in their home. They might have been ashamed to share their home with family and friends. Maybe their house is filled with 20-year-old hand-me-downs from their families or furniture they never cared about but served a purpose. But now they want a home that they love. One that reflects where they are in life at this time and one that nourishes their soul and makes them happy each and every time they walk through the front door.
Our clients value beautiful things. They have the means but lack the time, resources, and know-how to create their dream home which is why they call on us.
If you're like most of the clients we work with, the question on your lips is no doubt "How much is this going to cost me?"
If you ask this question to ten different people, you are going to get ten different answers, so I'm only speaking from my perspective. I've been in the design world for 13 years and am an award winning Architectural Digest contest winner.
Jody Sokol Design has been published nationally as well as locally in magazines and newspapers. We don't recommend anything that we wouldn't do ourselves in our own homes. We would never put poor quality furniture in our own homes, so it goes without saying that we would never put it in the homes of our clients. It simply goes against our nature and design philosophy.
It's important to me that our clients have homes that they love. Homes with beautifully designed rooms, fitted with high-quality furniture that will stand the test of time.
For young couples, I tell them that if they only have a certain amount of money, invest in one great piece and add to it over time. It kills me when I see people buying poorly made furniture that they will need to replace in a few years. Do it once, and do it right.
So let's get back to that question, how much does it cost?  Let's take a look at a couple of examples, the first is a living room we created containing 18 items including;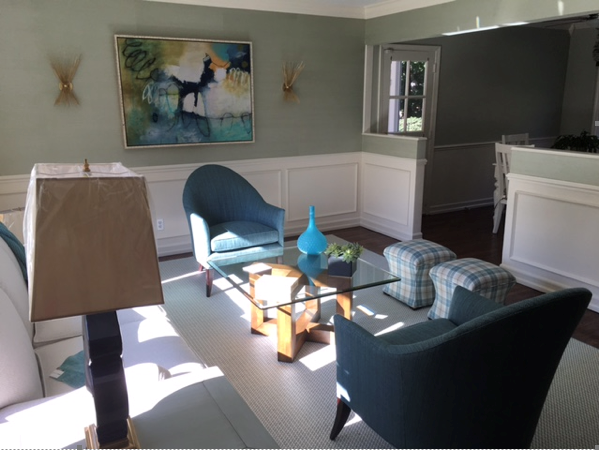 Grasscloth Wallpaper
2 Scones
Artwork
2 Side Tables
1 Cocktail Table
2 Chairs
Rug
Drapes
Woven Blinds
2 Lamps
1 Mirror
Pillows
The total investment including all furnishings, design fees, shipping, taxes, delivery, and installation was $39,000.
This bedroom created for Stoney Brookside Bed & Bike Inn contains 26 items, including:
2 Dressers
1 Pillow
2 Swivel Chairs
1 Ottoman
Wallpaper
Carpet for 2 Rooms
1 Mirror
The total investment including all furnishings, design fees, shipping, taxes, delivery, and installation was $40,000.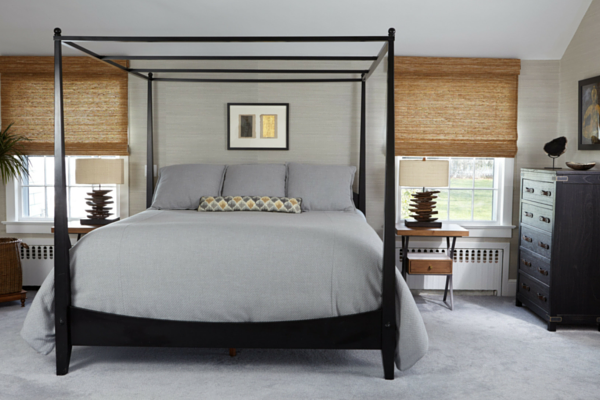 That's a lot of furnishings but the results were stunning and the clients couldn't have been happier.  It's also important to note that these two rooms needed everything, which isn't always the case.
Sometimes we start with a room that has a gorgeous sofa the client wants to keep and need to work around it. So the total investment will depend on the items you have already that will work with the new vision for the room and what new items are needed.
At Jody Sokol Design, we do mostly full design and manage everything for our clients so they don't need to worry about a thing. We take pride in meticulous attention to every detail. Our job is to create beautiful, practical spaces for our clients and to make it as fun and pain-free as possible.
So if you are ready to take the next step, let's schedule a 90-minute appointment to assess your project.
Not ready for a full design project, but still want two hours of our time? What can we discuss? Anything you want: paint colors, furniture placement, window treatments, swapping out accessories between rooms, or browsing the internet together, shopping for whatever your heart desires. If you are ready to book your 2-hour consultation, please click here.
Need help with more than one room? We also offer a four-hour consultation where we can discuss multiple rooms. If you are ready to book your 4-hour consultation, click here.
I can't wait to get started on beautifying your space.
Love & Joy!