If you're in the market for a new sofa, there are a few things you need to think about before making the purchase. What room is it for? How much use will it have? Will you need stain resistant fabric in case of food spills and/or pets? The best advice I could give is to always measure your space and don't leave things to chance, and to avoid making a costly mistake, make templates of the sofa you're looking at to make sure it works in the space.
Although expensive and inexpensive sofas may look similar, the difference between a good quality sofa and a poor quality one is huge. For starters, if the frame is made from plywood or particleboard, the sofa will be weak and won't last as long as solid wood. The strongest frames are made from wood that has been kiln-dried – a process that removes all moisture from the wood, enabling it to retain its shape and stability over a long period of time. Wood that hasn't been kiln-dried can shrink or crack easily.
In a good-quality frame, the joints get special attention. They are glued, dowelled, and screwed. The corners are further strengthened by the addition of reinforcing blocks for extra support and strength. The frame and all the corners should be well padded. Run your hand over them firmly to see. A padded frame will not stick out through the upholstery, it also means less friction for the fabric that is covering the frame.
The construction of the seating is important in determining the quality of a sofa. The best support comes from the eight-way hand tied spring system. The springs are all connected by a single strong twine that passes front to back, side to side, and then diagonally in both directions, thus tying each spring securely.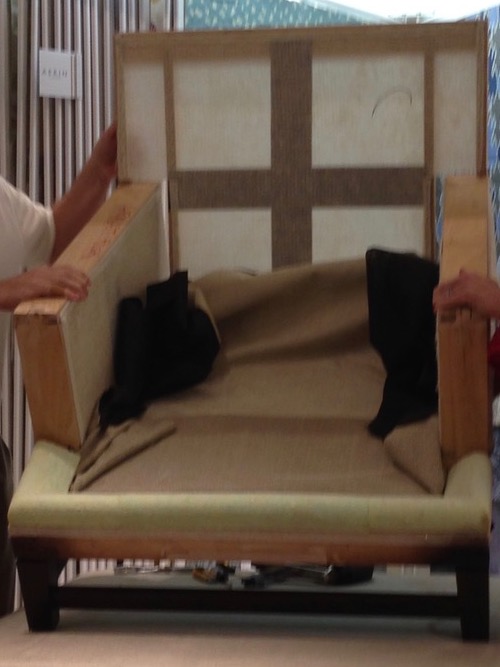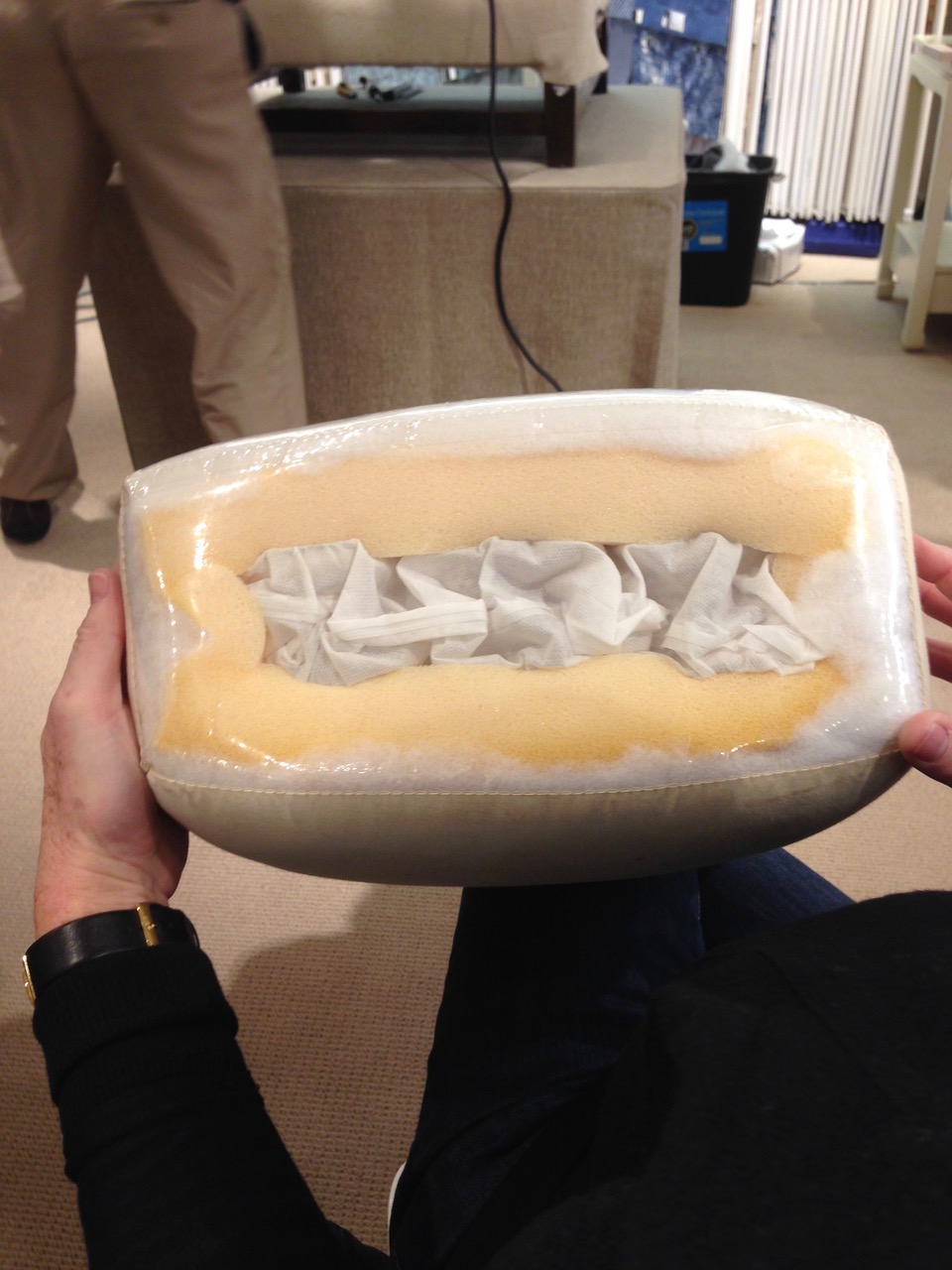 The most common cushion filling is high density polyurethane foam; the higher the density, the firmer the cushion will be. Foam that is not high-density can start breaking down pretty quickly causing sags, and the fabric does not stay taut when that happens. Sometimes foam is wrapped in batting to make it softer. Dacron wrapped foam is the cheapest option, but it won't last as long as cotton.
Down is considered the premium option for filling and makes for softer cushions, but it is among the most expensive. High quality cushions have down-proof ticking under the upholstery fabric to prevent feathers from poking through. Cushions filled with just down are high-maintenance and will need daily primping. Down can be used in combination with other materials; this is still considered to be a high quality option. Usually, pads are made from Dacron fibers and down, known as Blendown, and wrapped around high density foam; these cushions do not lose their shape easily.
Before making the big purchase, sit in the sofa. Are you tall or short? Are you more comfortable in a 38″ deep or 40″ deep? Do you want cushions or do you prefer no cushions (called a tight back)? Over the years, I have found that my personal preference is a sofa that is 40″ deep. My family can lay down and watch TV comfortably – but I am tall and that may not be for everyone. A good sofa is one of the most important investments you will purchase for your home. Don't buy a cheap one because then you will be replacing it in a few years. If you take your time and do your research, you won't be disappointed.