With our new normal, does working from home scare you?
It shouldn't but the number one thing you must have is a quiet dedicated space where you can close the door.  That's non- negotiable.  So now you have your space, what's next?
How many people will be working in your home office?  Just you? A spouse? An employee? If it's more than one, figure out the placement of the desks so that you're not tripping over each other.
Here's a picture of a his and hers office that I designed.  They both had different needs and styles so I think we were able to create a workable space that is not only functional but looks great too.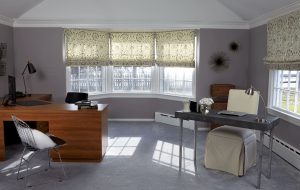 Some other things you need to consider— Will you be using your wireless lap top or will it be a desktop?  If it's a desktop, how can you hide those unsightly wires?  Will you need file drawers?  How large do they need to be?  Do you need a printer?  Where will that go and where will you store your paper?  What about other supplies like envelopes, paper clips, pens, etc?  I like a dedicated space for those items.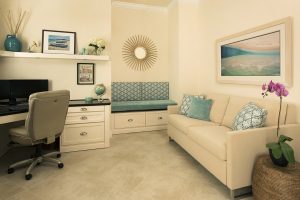 Will you need a bulletin board? Wall calendar?  How important are shelves?  So many things to think about, right?  But I'm telling you before you decide to run out and buy a desk, really sit down and ask yourself how do I need this room to work for me to function at maximum capacity?
If you're still feeling overwhelmed, reach out to me at jody@jodysokol.com
We can help you design a functional and beautiful office that will inspire you to do your best work.