For this bespoke luxury service—our most popular—we'll handle every detail, from the design concept to the execution of an exquisitely curated home. In addition to a full custom turnkey experience, we tap into our exclusive "To the Trade Only" resources, providing the highest quality customized furnishings tailored to our clients' needs. Ideal for busy people who lack the time, interest or resources to do it themselves.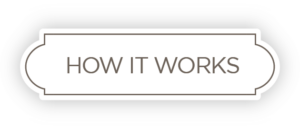 Concept Phase
1. Drawing upon the info we've gathered from our initial design consultation, we'll deep dive into figuring out how you want the space to function for you and your family. We discuss room layouts and get a feel for the way you live. Whatever photo inspiration you can share will help guide us in the right direction. We ask anyone involved with the decision making to be present during this meeting.
Planning Phase
2. We present you with a choice of two space plans, make any modifications, and finalize. Then we begin sourcing all design elements including furniture, paint colors, wallpaper, rugs, art, lights, window treatments, and accessories, providing samples whenever possible, and meeting with any applicable trade professionals. You'll receive two options for every design element where applicable. Mood boards and tear sheets with pricing will help you visualize how everything will come together.
Purchasing & Installation
3. Upon receipt of payment, we order and procure all merchandise. A regularly updated timeline with furniture delivery dates will keep you in the loop. We inspect all merchandise upon delivery and oversee installation, ensuring an immaculate final result. If any outstanding issues remain upon completion, they are resolved quickly.
[Starting at $50,000 per room, excluding taxes, shipping and design fees, with a 2-room minimum]